July 16 2018 – 2:43 PM Pacific Time Update
Numerous reports today of Amazon Flex's app issues. Upon signing into their accounts, users may receive the error:
Support Code 03-003
Support Code 03-005
Support Code 800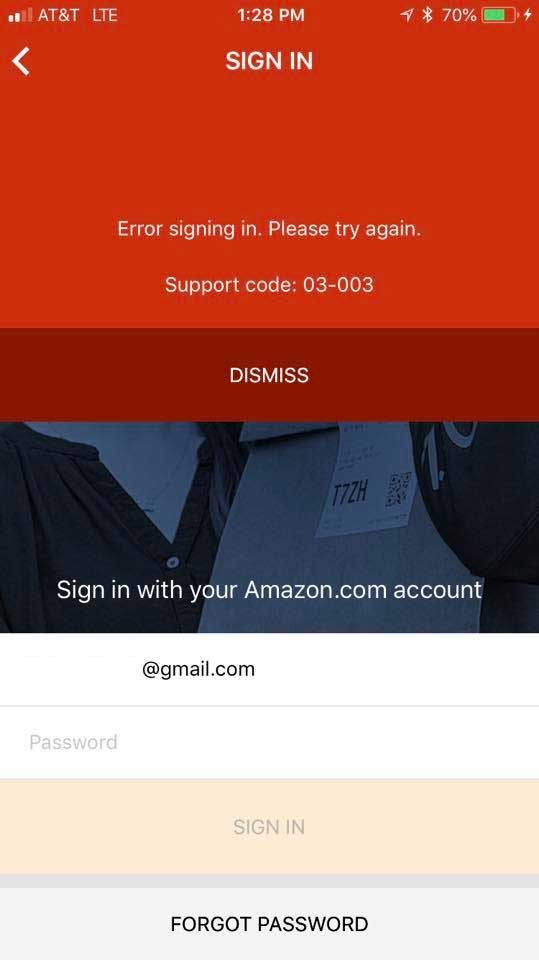 No official word yet from Amazon Flex, but the issue seems to be widespread. If you are worried about missing a block or incomplete deliveries, it is very likely that you are one of many others affected by this app issue, and therefore leniency should be expected from Amazon Flex managers.
We strongly recommend you take a screenshot of your error message to show to Amazon Flex support. This way, you can be sure to have documentation of this issue which affected your ability to complete your deliveries, and hopefully be compensated for what you should have earned in delivery fees during the blocks that you missed.
Amazon's Prime Day website is also affected by reliability issues today – today's technical issues with Amazon Flex app may be related.
Unfortunately, in the mean time, there isn't much you can do. You can try one of our recommended troubleshooting steps, but it seems like an issue on Amazon's servers, and we'll just have to wait and see.
Update: Reports indicate that predominately iPhone users are affected. If you have a second Android phone, you may want to consider trying to log in from there.