Amazon Flex is undoubtedly a rewarding program for drivers. But it is far from simple, considering the difficulty in getting blocks assigned, the need to keep up your performance and your account in good standing.
Many times, you will want to reach out to an official Amazon Flex support contact who can help answer your questions over the phone, just like a customer support representative.
Keep reading to find out your best bet for contacting Amazon Flex driver support – we list both official and unofficial channels (with phone numbers) for contacting them.
Official Amazon Flex support channels
Because of their need to maintain efficiency and ensure that Amazon Flex driver questions and support are answered in a timely and effective manner, Amazon Flex runs its driver support system much like a customer support program for a large company.
You might be tempted to call it "Amazon Flex customer support" because of the nature of the relationship. But don't forget that you are an independent contractor who is working to make your mutual customer – the delivery recipient – as satisfied as possible. In reality, though, trying to get through to a support representative is similar to customer support because of the sheer size of Amazon Flex's operations.
In particular, phone support is not officially provided to any Amazon Flex drivers unless they are on an active delivery route, and all other inquires are routed through email. This can be frustrating for drivers who would like to reach out to a driver support specialist over the phone and receive immediate answers to their questions.
Unfortunately, with so many drivers across many cities across the country, Amazon Flex has a limited amount of phone support capability and will understandably want to focus on customer support, rather than driver support.
The official channel to reach Amazon Flex via phone while you are on an active delivery is as follows:
Tap on the question mark button at the top right corner of the app. You should see a popup with the "Request call from Support" option.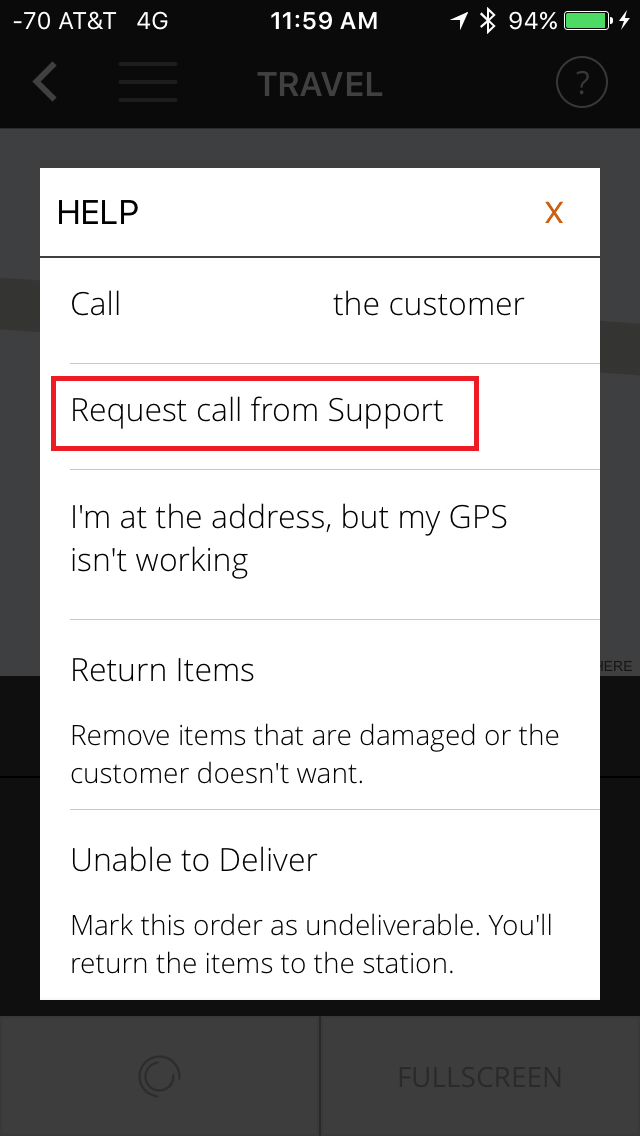 The Amazon Flex app will automatically have a number (typically Seattle area code e.g. 206) call you within 30 seconds.
If you are not on an active delivery route, officially, you should be contacting them through email at:
amazonflex-support@amazon.com
This is likely by design, as Amazon Flex wants to ensure the highest level of customer support for their Amazon Prime customers and prioritize their satisfaction.
Since the Amazon Flex drivers who are out for deliveries are the last link before the packages are delivered, they are most critically in need of immediate and effective support. Especially, since they are driving, phone support is the only practical way for them to receive any help while they are making deliveries.
Keep this in mind, and respect your fellow Amazon Flex drivers. If you do, however, absolutely need to reach Amazon Flex by phone directly, see below for unofficial phone numbers to reach Amazon Flex support.
Unofficial Amazon Flex Support Phone Numbers
Currently, there are three Amazon Flex support phone numbers that are publicly posted for drivers. These are not publicly acknowledged by Amazon Flex, but they are known to connect through to live support agents.
For questions and support during registration and starting out:
1-888-281-6901
1-888-281-6906
For questions and support when you are not on a delivery route:
1-877-212-6150
For questions and support when you are on a delivery route:
1-877-472-7562
1-281-330-8004
1-206-922-0880
See our tips for when you should be calling the Amazon Flex support line