If you've recently registered and been approved for Amazon Flex and are excited to start, but see an error message after receiving the welcome email and trying to access the Amazon Flex app, you may be wondering what this means.
When you log into the Amazon Flex app, you might get an error message that says:
"Sorry, there aren't any delivery openings in your area at the moment. Check back in the next day or two to see if any openings become available."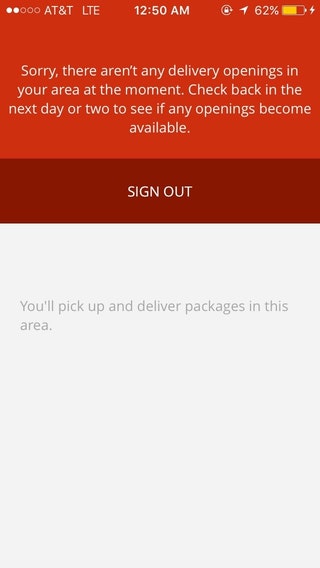 What this means is that Amazon Flex has accepted your application and you are now officially in their system as a driver. However, because you are new, they have temporarily placed you in a sort of waiting list, where you will not be able to work until you clear this waitlist.
This is frustrating because you've finally been approved as an Amazon Flex driver, but you can't start yet! Unfortunately, this is just the way Amazon Flex operates and it may be necessary for them to do this in order to strike a balance between the number of drivers and the amount of work available.
The registration process for becoming an Amazon Flex driver can take some time, since background checks and other formalities can take several weeks to complete. So, when Amazon Flex accepts new driver registrations, it must accurately predict what they work demands will be like several weeks in the future. In some cases, they may overestimate the amount of packages that need to be delivered, and end up having an oversupply of drivers compared to the number of deliveries that need to be made.
There isn't much you can do to resolve this issue other than to wait. While this can be annoying, once you start delivering you will understand how difficult it can be to
get delivery blocks assigned
, and be thankful that Amazon Flex actually limits the number of drivers!