As my ecommerce business has grown, my expenses have also grown. I use business credit cards whenever I can, because they offer me the ability to earn valuable rewards points, and in some cases, they can even provide you with a short term, interest-free loan.
Why Earn Rewards Points?
Like personal credit cards, business credit cards can earn rewards points or miles on each dollar you spend on the credit card. There are a wide variety of credit card issuers, as well as a wide variety of points or miles that you collect. In many cases, you can even redeem points for a statement credit or check to pay off part of your credit card balance. These rewards programs are typically referred to as "cash back" and range anywhere between 1-3%.
As a simple example, let's take a look at the Marriott Bonvoy Business Credit Card, issued by American Express. This credit card earns Marriott Bonvoy points that can later be redeemed for hotel stays. At a minimum, you will earn 2x points on every dollar you spend, and more depending on the merchant category. When you pay for your Marriott hotel stays, you will earn 6x points for every dollar you spend. (This is the essence of the brand loyalty scheme, where they incentivize cardholders to stay at Marriott hotels if given the choice).
Many vendors and service providers will allow your business to pay invoices in various ways. The most common ones are paper check, EFT (electronic check), wire transfer, or credit card. When credit card payment is offered without an extra fee, I would recommend that you always choose that option because you will be able to earn rewards points on that payment. If you have that Marriot Bonvoy card, you could either earn 2000 points paying a $1000 invoice, or earn no points (and use up a postage stamp) by paying that invoice by check.
Rewards points can be especially valuable when booking flights and hotels. That's because major airlines and hotel chains will offer their product using two prices: one in standard dollars and cents ("cash price"), and one denominated in the rewards program currency ("points price"). For some rewards programs, there is a fixed conversion rate between dollars and points, while for others the points price is set by flight distance or hotel category.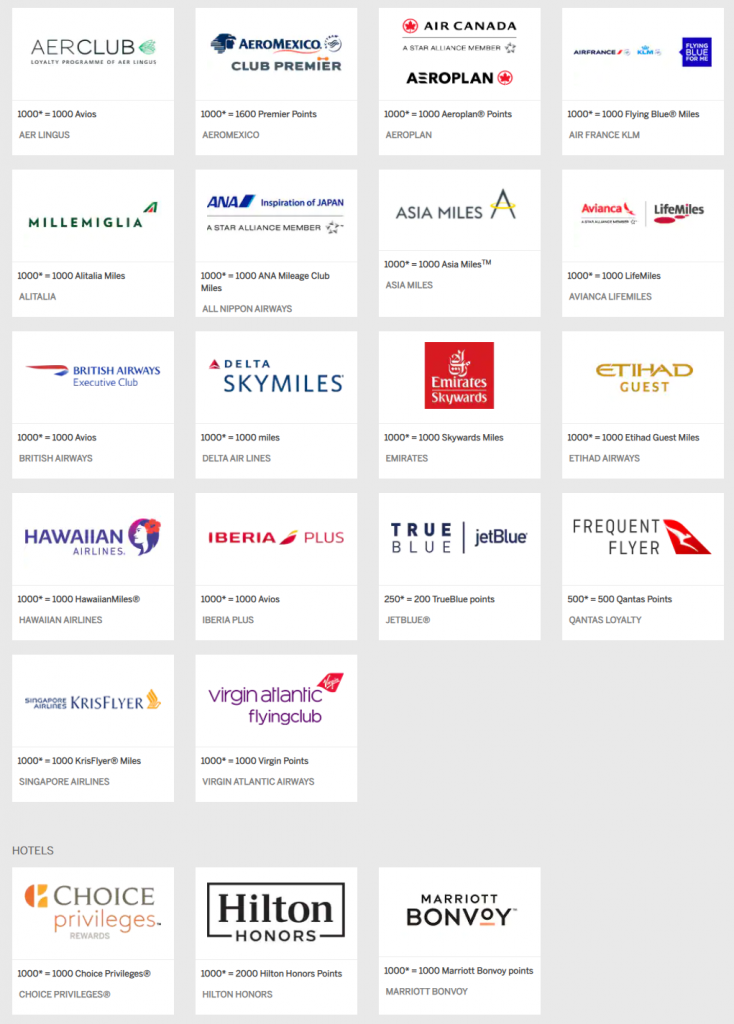 Airlines and hotels are notorious for adjusting their cash prices depending on supply and demand. Luckily, for some programs, the points price does not go up, even if the cash price goes up. These are situations where you can get extra value out of your points.
You might be wondering, is it all worth it? If you're running a serious business, I would say not using a business credit card to strategically earn points is leaving money on the table. I estimate that for every $100 in business expenses, I receive $5 or more back in cash back or equivalent travel value – that's a whopping 5% difference!
Transferable Points Currencies
The major banks also offer their own points programs. American Express offers Membership Rewards Points, Chase offers Ultimate Rewards Points, and Citibank offers ThankYou Points. One of the benefits of these points programs is that you can use the points as a statement credit to reduce your balance due, or transfer the points to another partner airline or hotel chain. For example, you can transfer Chase Ultimate Rewards points to Hyatt Hotels, United Airlines, Southwest Airlines, Singapore Airlines, and many more.
The best points credit card for you and your business will depend on a lot of factors such as whether or not the points program will be of any use to you. If, for example, you live in a city that is not served by Southwest Airlines, you will most likely not benefit as much from the Southwest Airlines Business Credit Card.
In general, I believe that transferable points programs offer the best value for this reason, and all of my business credit cards earn transferable points currencies only. Below, I go over what I believe are the best points credit cards to use when operating an online ecommerce store like myself.
Best Points Credit Card to Earn on Digital Advertising (AdWords, Facebook Ads, etc)
American Express Business Gold Card
The AmEx Business Gold card earns 4x Membership Rewards points on every dollar spent within the following categories: airfare, advertising, computer hardware & software, gas stations, restaurants and shipping. The catch, however, is that you can only choose two of these categories each month, and you can only earn 4x points on up to $150k spend per year, per category.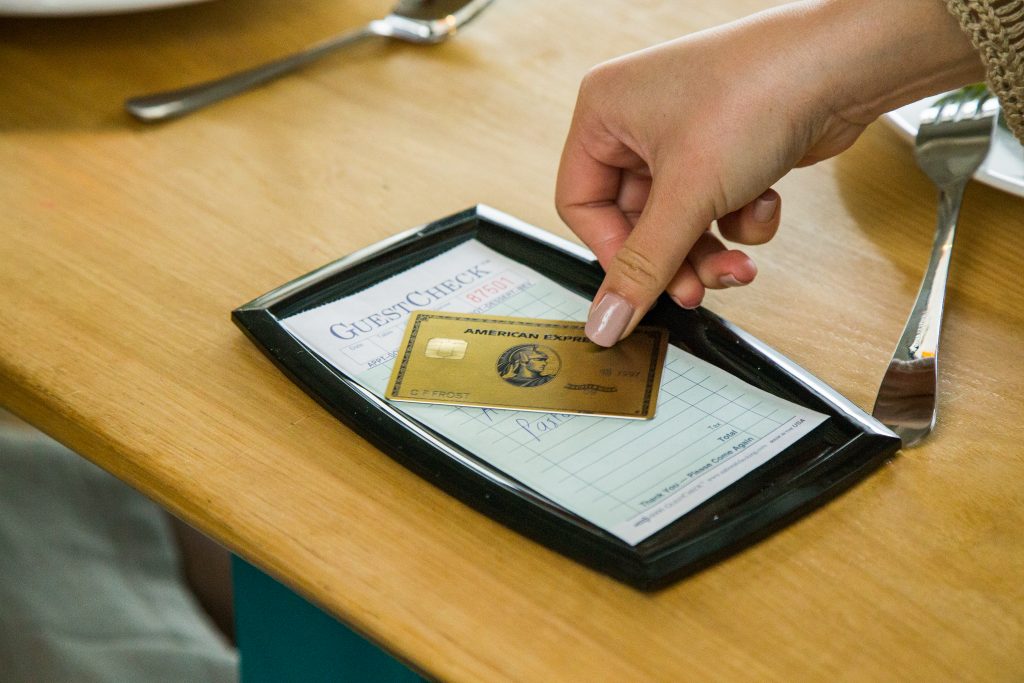 AdWords is my largest credit card expense, and I sure am glad that it falls under the advertising category. Membership Rewards points are worth 2.0 cents each, so I am essentially earning 8 cents back on every dollar of advertising spend.
I spend about $5k – $10k per month on AdWords, so I easily accumulate 20k – 40k Membership Rewards points every month. That's enough for a one-way fight to Europe!
I've looked everywhere, and there are no other cards that offer this much value on digital advertising spend.
Best Points Credit Card to Earn on Shipping Services
In evaluating the AmEx Business Gold categories, the second largest expense category for me is shipping costs. I incur a sizable balance purchasing postage labels through an online service called Endicia. I also pay import duties and taxes for air shipments to the carrier (FedEx/DHL), which have gone up significantly ever since tariffs have been imposed. Luckily, I am able to put all of these expenses on the same AmEx Business Gold card.
Just like with digital advertising, I am able to earn 4x on every dollar spent on shipping services as well. My shipping spend will fluctuate month-to-month, but I average $2k-$5k a month, so this gives me a nice boost in my Membership Rewards balance as well.
Unfortunately, my freight forwarder is not categorized as a "shipping" company and so my sea shipments and associated costs are not put on this credit card.
Best Points Credit Card to Earn on Everything Else (Up to $50k/year)
While the AmEx Business Gold provides excellent earnings on those select categories, for all of the daily miscellaneous expenses, I've determined that the best credit card to earn points is the American Express Blue Business Plus Credit Card.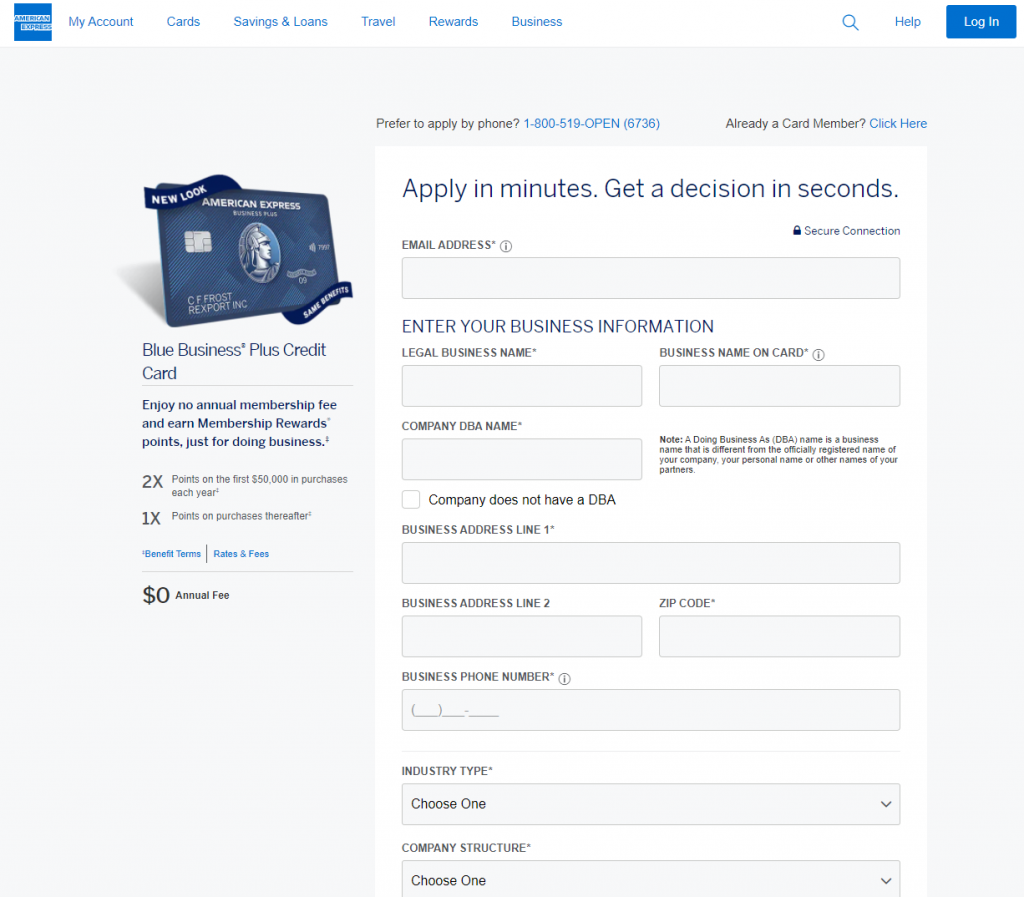 This credit card earns 2x Membership Rewards points on every dollar spent, anywhere. Using the same 2.0 cents per point valuation, this credit card gives me 4% in redemption value, regardless of category.
This is one of the best earning rates available in a credit card, so I put all of my charges on this card outside of advertising and shipping. Because the earning rate is so high, I oftentimes find that credit card fees are worth paying when they are 2.0% or less.
PayPal allows me to use this credit card for purchases from Chinese suppliers, so this makes it possible to earn points while purchasing inventory. Most of my PayPal purchases from suppliers are relatively small because of the high fees that PayPal charges, but they nonetheless add up quite a bit.
Additionally, this credit card features an introductory 0% APR during the first year, which can be extremely valuable for growing your business.
My only complaint about this credit card is that the 2x points earnings are only applicable to the first $50k in spend each calendar year, which typically happens within the first few months of the year for me. After that, the earning rate drops to 1x point per dollar spent. While this may not be an issue for ecommerce stores in the early stages, you may find that you quickly hit this limit as your business and expenses grow.
Best Points Credit Card to Earn on Everything Else (More than $50k/year)
After I max out the $50k limit on the AmEx Blue, I switch over to the Chase Ink Business Unlimited credit card, which earns 1.5x Ultimate Rewards points per dollar spent, regardless of category.
Ultimate Rewards points are also valued at 2.0 cents per point, so this gives a redemption value of 3% per dollar spent. The rewards rate is not as good as the 4% on the Amex Blue, but there is no cap on earning the 1.5x points, so this is the next best option after you spend through the first $50k on the Amex Blue.
I value both AmEx Membership Rewards points as well as Chase Ultimate Rewards points for their flexibility and breadth of transfer partners. In fact, having points in both currencies diversifies my options even more, because the two programs have different sets of transfer partners.
Some Final Caveats
Credit cards are very useful and valuable tools for an ecommerce company, especially for rewards points that you can quickly accumulate through your business expenses.
As with personal credit cards, however, always pay every statement in full. If you do not, you will be charged interest on that balance, and any of the benefits of earning points and rewards will be wiped out.
Finally, be careful to keep your personal and business finances separated, including the way in which you manage and use your credit cards. Business cards are issued to you and/or the LLC, so it should only be used for legitimae business expenses. This distinction is important for general accounting best practices, but also in leaving a clear paper trail that separates you from your LLC.